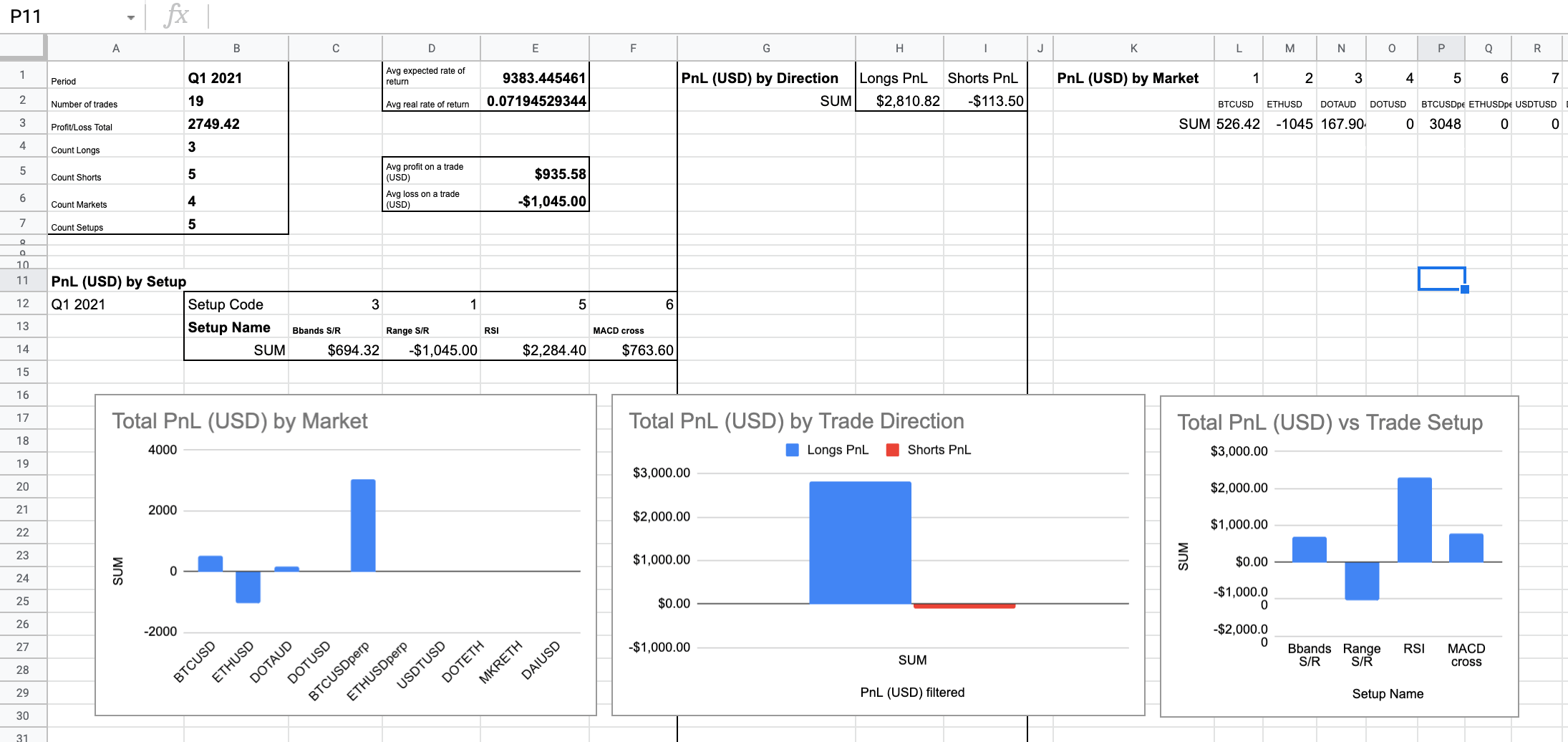 Need help with the spreadsheets?
Post your question into our Google group. Add a link to the page where you got the spreadsheet from, so that others might find it later.
There are commercial services that let you log trades, but they can be expensive and not always available for every trading platform.
This is a list of Excel templates and spreadsheets that are good as a trading log for crypto trading. Often you can adopt templates from stock trading, if you trade on technical analysis, or from forex, if you scalp.
The trading journal templates are ordered by complexity, from the simplest template to the more complex.
The simplest trading log spreadsheets include market, direction, entry price, exit price, amount.
The more complex trading log templates have additional fields for notes on the pattern or setup you traded on, and space for notes about your market predictions.
The more information you log (within reason) the more accountable you can hold yourself.
Also see our page with Portfolio Diversification Spreadsheets
Basic: Crypto Trading Log Spreadsheet
This is your super simple trading journal spreadsheet. It only has the fields that are absolutely necessary, but at least it doesn't take forever to log your trades.
There is no built in analysis, you will have to process the spreadsheet yourself.
Trading log fields:
Opened (date)
Closed (date)
Market
Setup (…on which you traded)
Direction
Entry (price)
Target (price)
Exit (price)
Size
PnL
Funding (cost)
Fee (cost)
Notes
Get this spreadsheet: Open the Google Sheet - Click "File" > "Make a Copy"
Intermediate: EarnForex Excel Trade Journal
The Google spreadsheet version modified for crypto is linked below.
The original EarnForex Excel Log (v3.0 from 2020)
The EarnForex Excel template in its original form already includes all the things you will need in crypto. The modifications of its 2020 version are minimal - change the forex markets to crypto markets and you're good.
The template comes with an analysis sheet. Source
Download the original EarnForex Excel trading log
Original trading log fields included:
Open Date
Strategy (such as "double bottom")
FX No (number of the market from the sheet that lists your markets)
Currency Pair
Direction (long / short or put / call)
Entry Price
Initial Stop
Initial Target
IRR
Position Size
Exit Price
Close Date
Profit/Loss
Swap (your costs of margin funding)
Commission (trading fee charged by the exchange)
Length (scalp, swing)
Open Comment (your reasoning for entering)
Close Comment (your reason for exiting, whether it was scaled in or at once, or stopped out)
End Balance
EarnForex Excel Log Adopted for crypto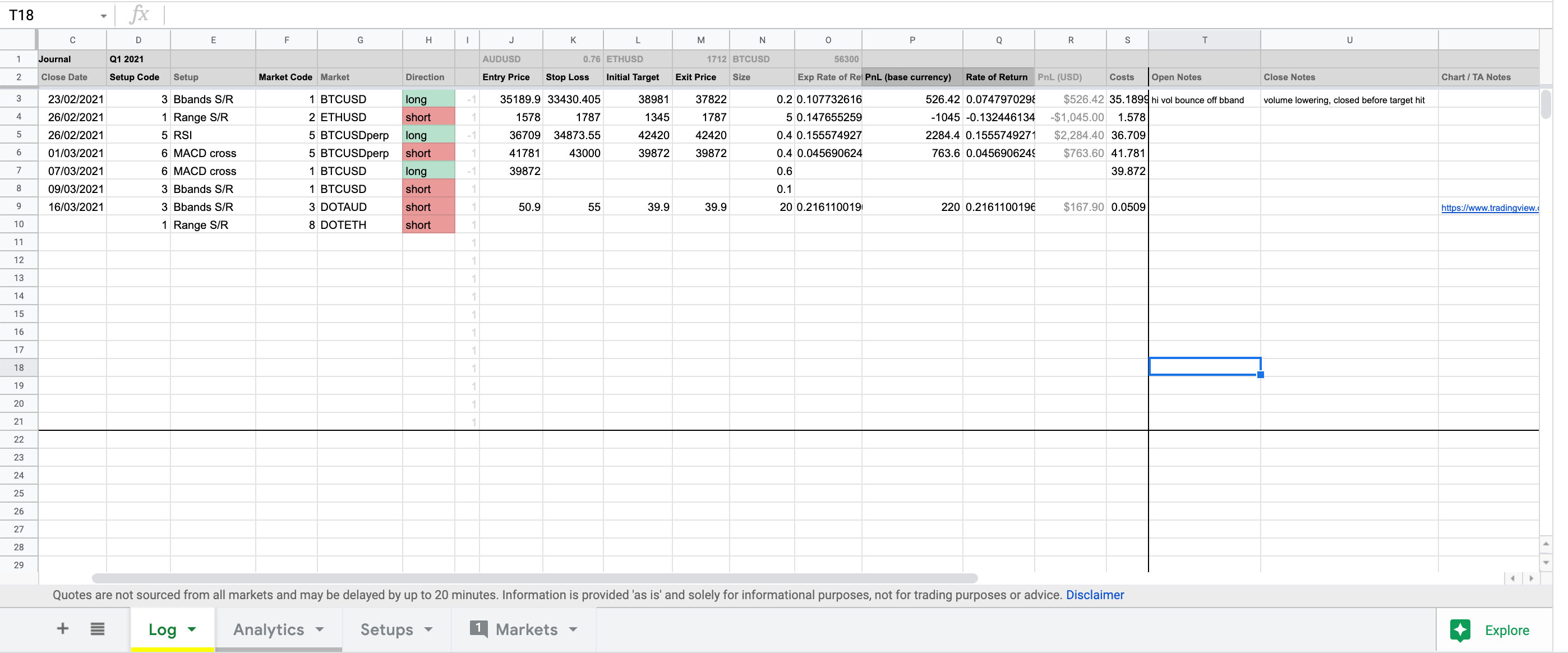 The link below is a (work in progress) - the EarnForex's Forex trading log transformed into Google Spreadsheet and modified for crypto markets.
With this version of the trading journal, 10 different crypto markets are set up for you. You can overwrite them into any other pairs, depending on which markets you trade. But remember to also modify the column with Google Finance integration that gets you the conversion rate into USD.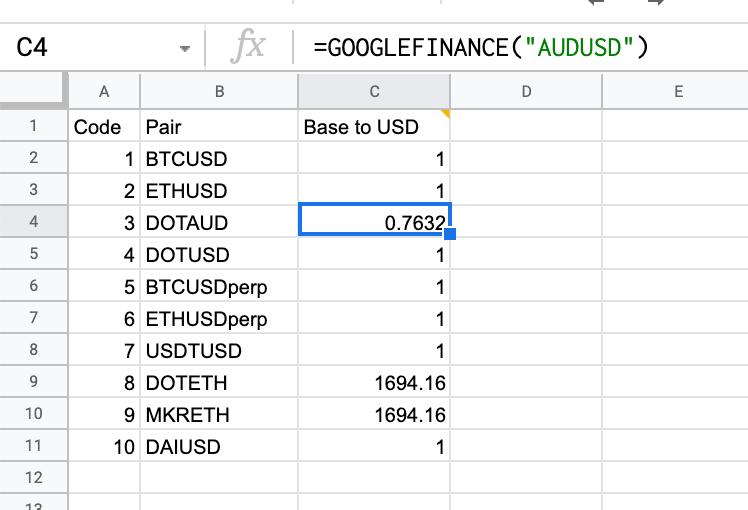 Thanks to this data, your PnL is calculated in the base currency and in current USD rate for that base currency.
To learn from jour trading journal, rate of return will probably tell you more about your trades. This trading log calculates both your expected rate of return (from your target price) and the realised rate of return for each trade.
The Analytics tab breaks down your trades by several metrics:
Total USD Profit or loss based on traded pair
Total USD Profit or loss based on technical analysis, pattern or setup
Total USD Profit or loss based on direction of your position
Other than that the fields are more or less the same as in the forex log above.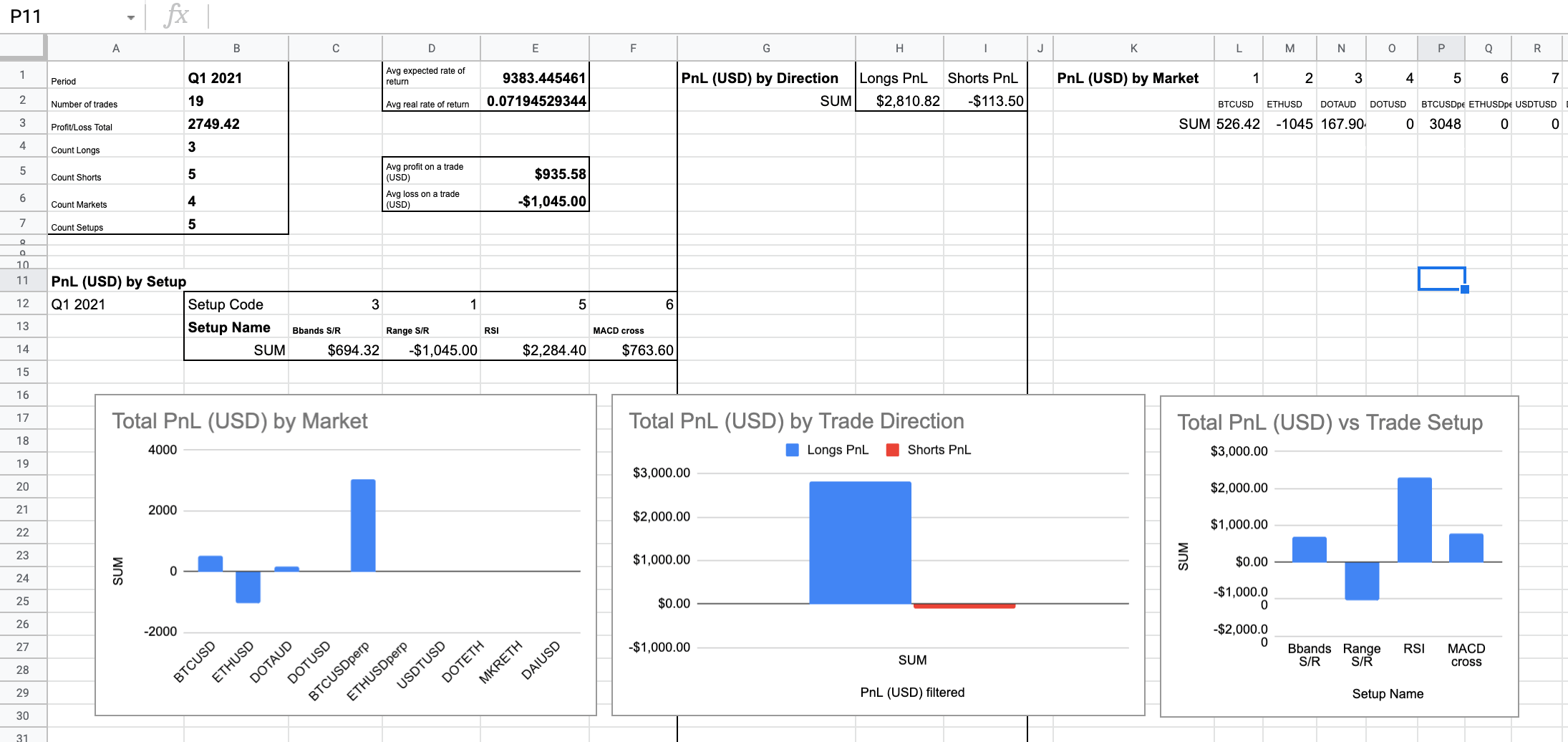 Get this spreadsheet: Open the Google Sheet - Click "File" > "Make a Copy"